Tourist Information Centers
Nara Visitor Center & Inn
Nara Visitor Center & Inn is Nara's leading tourist information and visitor center. The comprehensive facility is equipped with information counters manned by multi-lingual staff, a travelers' lounge with free Wi-Fi, ATM and money exchange services and a gallery showcasing Nara crafts and products.
With a wide array of services offered, you can book accommodation, sightseeing tours, make transportation arrangements and purchase a range of tickets and passes. A selection of cultural experience workshops, either free or for a small fee, are also offered on a regular basis.
Other Tourist Information Centers
Travel Smart
Traveling in a foreign country can be a confusing experience. In order to keep stress and strain to a minimum, travel smart and make use of some of the convenient services on offer throughout Japan and Nara.
IC Cards
Across Japan, an Integrated Smart Card (IC) system allows travelers to pay for transportation fares regardless of region and service provider. Pick up a rechargeable IC card at the nearest train station to avoid complicated ticket purchasing procedures each time you use the train, subway or bus. IC cards issued in Nara are ICOCA cards. Suica and other regionally issued cards can also be used. Note that IC cards can also be used to pay for goods in convenience stores.
Luggage Forwarding Services
Fast, efficient and inexpensive courier services, or takuhai as they are known in Japan, operate nationwide. Many of them offer convenient luggage forwarding services. Take advantage of these to send bags to hotels, onward destinations or to the airport for hassle free travel while in Japan.
Yamato Transport and Sagawa Express are two of the largest couriers. In addition to operating service counters at major airports, they provide pick up and delivery services from convenience stores and hotels. More information is available on their respective websites, or you can inquire at your hotel, a convenience store, tourist information center or the airport.
Coin Lockers
Train stations, department stores and tourist information centers in Japan are generally well equipped with lockers for baggage storage. Nara is no exception. The price of lockers varies with size, but is usually in the region of ¥500. Most only take ¥100 coins, so make sure to set a few aside in your wallet if you have luggage that needs storing.
QR Code Readers
Download a QR code reader app before arriving in Nara. Murouji Temple, The Former Site of Heijokyu Imperial Palace and other key Nara venues display QR codes offering multilingual information around their grounds. Simply scan the code to access the information. An internet connection is necessary, but venues with QR codes should have free Wi-Fi available.
Money & Shopping
Cash vs Credit Cards
Although credit cards are becoming much more widely accepted, especially in urban areas and places popular with tourists, cash remains king. When booking accommodation, particularly in more rural areas, check payment options and ensure you have enough cash with you to cover your stay in case payment by card is not an option. Note that ATMs can be few and far between outside of Nara City.
ATMs & Currency Exchange
To withdraw cash on an internationally issued card, use one of the convenience store ATMs at either 7-11, FamilyMart or Lawson. Japan Post ATMs, located at most post offices, can also be used. ATMs at many banks and other convenience stores tend to be for domestic use only. For currency exchange, head to Nara Visitor Center & Inn or one of the banks in Nara City. It is worth noting that Japanese banks are only open between 09:00 and 15:00 on weekdays.
Tax-Free Shopping
Make sure to carry your passport with you when shopping. International visitors spending less than six months in Japan are eligible for tax exemption on general items and consumable goods at participating stores. Look out for shops dispaying the "Japan. Tax-free shop" symbol. To qualify for tax-free shopping, the value of purchases made within one day at a single store (excluding consumption tax) must exceed ¥10,001 for general items, and more than ¥5,001 for consumables.
Nara's Weather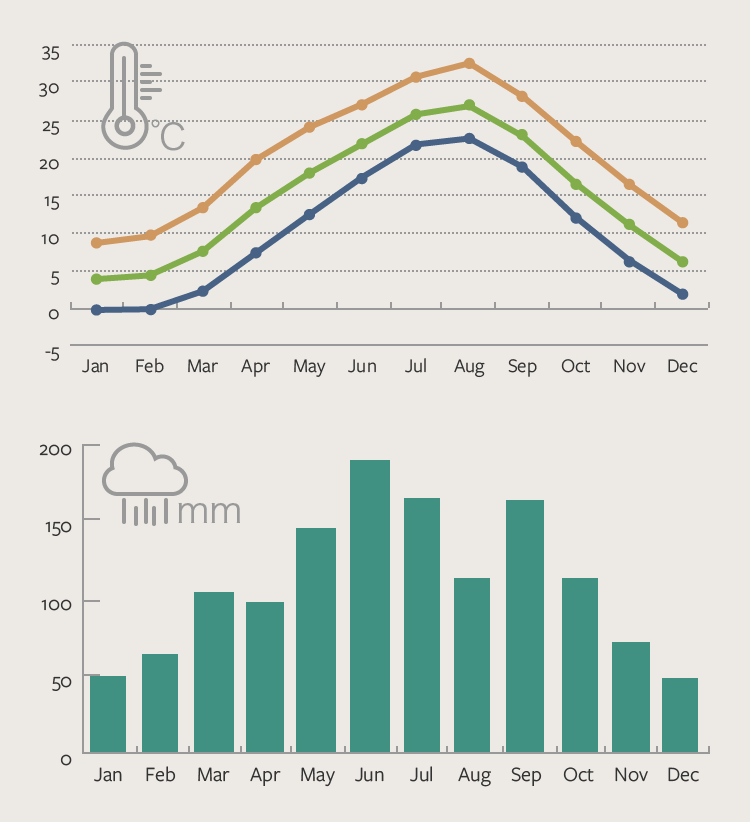 Nara Prefecture enjoys a temperate climate with winter temperatures rarely dropping below freezing. Summer is usually hot and can be quite humid, with heavy rain falling at times. The most comfortable temperatures are seen in spring and autumn averaging approximately 15 to 20 °C. If traveling to more mountainous areas, especially in the south, expect temperatures to be a few degrees cooler than Nara City and other flatland areas.
Traveling with Kids
With fewer crowds than Kyoto and plenty of green spaces to run around, Nara is a great place for kids. Feeding the deer is an obvious highlight, but can also be a little scary for smaller children. Most tourist attractions have ramps for strollers, and train stations usually have escalators or elevators. While buses are well-designed to accommodate parents with small children, it is sometimes easier to take a taxi, especially when buses are crowded.
Although Nara is well known for its shrines and temples, the area offers family-friendly hikes, hot spring and swimming pool facilities, fruit picking, a toy museum, amusement park and numerous other fun options. For ideas on how to entertain children in Nara, check out the Travel Directory.
Free Wi-Fi
Wi-Fi has become widespread throughout most major towns and cities in Japan and is more accessible to travelers than ever before. Nara City offers an extensive service covering the major tourist destinations in Nara Park and along Sanjo-dori Street, leading down to Nara Station.
Most modern hotels will also have free Wi-Fi for guests, but it is a good idea to check when booking, especially for older hotels in more rural areas. If connectivity is a concern, consider renting a mobile router or picking up a prepaid sim card at the airport on your arrival in Japan.
Useful Information Directory
A comprehensive directory of contact details and website links for a range of facilities and services including: the emergency services, tourist information centers, transport operators and more.
Emergencies
Natural Disasters
Websites
Tourist Information Center
Essentials
Transit Information
Local Restaurant Guides
Weather Information
Luggage Forwarding Services
Tourist Information
Accommodation
Heritage Sites
Tourist Information Centers
Travel Guides & Information
Tour Guide Services
Translation App
Transportation
Airlines
Airports
Airpot Shuttle Buses
Buses
Travel Passes
Trains
Taxi Operators
Car Rental